BESPOKE FITTED KITCHENS, BEAUTIFULLY CRAFTED
Steven Cleary Carpentry specialise in bespoke kitchens in Dublin. A badly planned kitchen can be a real headache around mealtimes. Being able to find cutlery is a chore itself. Trying to look for food or cookware can be a test of skill as well as endurance. Owing to this, you are less inclined to use your cooker, microwave oven, other kitchen gadgets, and crockery to their full potential.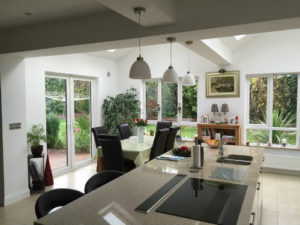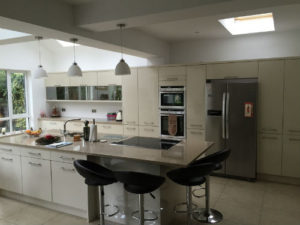 Clutter can also eat up time as well as valuable shelf space. The lack of space has ramifications in how you store your food. Your kitchen appliances and gadgets. Also your cutlery and crockery. The time it takes to do the simplest of dishes is much extended.
Over the course of a few days, this could change with a bespoke kitchen planned by Steven Cleary Carpentry, for Dublin and Meath. Whether your kitchen is bijou or palatial, we can help by creating a layout that is logical and designed around your needs. We can turn our carpentry skills to any style of kitchen, from state-of-the-art to traditional styles.
We can source suitable appliances for you, which blend in with your kitchen, or work around your existing ones. Every little detail is covered, from the cupboard door handles to the choice of taps.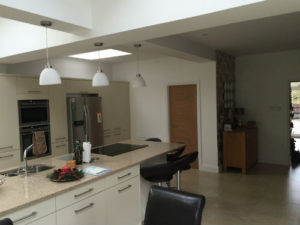 Before you see your dream kitchen, we shall arrange a suitable appointment time at your home. Then we shall consider layouts and discuss design options. If you want us to go ahead, we shall arrange a suitable time for us to start fitting your kitchen in Dublin & Meath. As always, all quotations are free, with no obligation to buy. All of our work is fully insured and guaranteed.
The kitchen is probably the most important room of your home. If big enough, it is a suitable place for entertaining guests with a commodious dining area. Your kitchen deserves nothing but the best, and a fitted kitchen by Steven Cleary Carpentry fits the bill.
Areas We Can Provide our Bespoke Kitchens: