GENERAL CARPENTRY & JOINERY
Quality Joinery Services in Dublin Designed To Enhance Your Home
When decorating or refurbishing your home, you can either grapple with flat pack furniture or pay the extra Euros for assembled furniture (which could be ill-fitting). Besides the monetary cost, you need to find time to fit your furniture or find the time to move your old furniture. We at Steven Cleary Carpentry are experienced joiners in Dublin who offer a worthwhile alternative to losing screws, wasting a decent Bank Holiday, or trying to shift older furniture. It is one you will find favourable.
For a good price, we can create your very own bookshelf, TV unit or bedside table. In fact, anything that is suitable for your home, instead of wasting those precious hours deciphering instructions and wondering where the shelf bracket has disappeared to.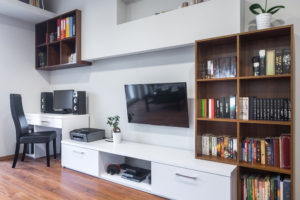 The possibilities are endless with the only limit your imagination. We can build furniture in any style you prefer. A modern glossy look? No problem. Traditional Shaker style? Ditto the above. Solid pine or mahogany? Yes, we can do that too. Wardrobes? Most definitely: see our Wardrobes page to find out more.
IN THE GARDEN
We at Steven Cleary Carpentry not only work indoors, we can also enhance your garden. Our work has included wooden decking. Within our skills base is garden furniture, such as bench seats, sun loungers, and picnic tables. Also, garden sheds for tools and pot plants.
Indoor or outdoor, our carpentry skills will improve your home. Not only through aesthetically pleasing structures; most importantly, lasting structures. Such as bookshelves designed for the weightiest of tomes, intellectually and physically; commodious sheds designed to stand up to all conditions. Also, TV units designed to withstand the largest of flat screen televisions and the most discerning of viewers.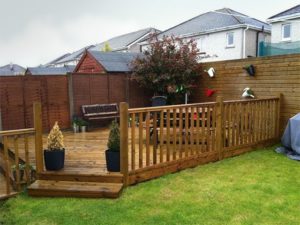 If spending the best part of a Bank Holiday with flat pack furniture isn't your cup of tea, why not ask us for a free no-obligation quotation? Just send us an email, give us a ring, or fill in our quick contact form at the bottom of this page. We will be delighted to hear from you.