Bespoke Kitchens Fitted in Meath
Benefits of Choosing Steven Cleary Carpentry for Kitchens Fitted in Meath
Our carpentry services deal with bespoke kitchens. We operate in Meath and Dublin towns. Our major aim is to help our customers achieve the best kitchen set up and designs. We are capable of developing a beautiful kitchen that will give you a lifetime appeal. We understand the negative impacts of a kitchen developed with a poor plan. Achieving high quality classic kitchens is a hard task that may come at a cost. However, having a low standard requires you to endure the inconveniences it brings around. Such a kitchen makes even use of modern kitchen appliances such as microwave oven, gas cooker and other gadgets that are used for heating and cooking non-motivate. In fact, in such a poorly planned kitchen, the elements may not be used to their maximum potential.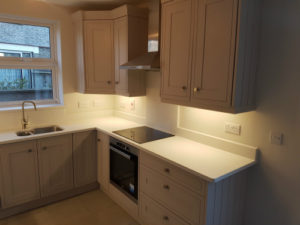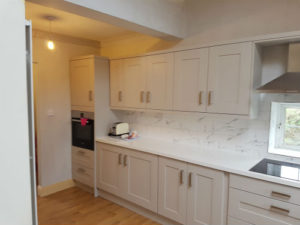 Why you need Stephen Clearly Carpentry?
Kitchen Space Utilisation
Poorly designed kitchens are likely to have inadequate space. Therefore, kitchen owners may skip buying essential kitchen elements due to lack of space. For instance, the clutter may occupy a significant amount of space that would instead be used as shelve space. We understand that such problems may even leave your kitchen area incapable of accommodating a food storage section or facility. Additionally, we know that the kitchen needs a partition for keeping all the dishes and utensils in general. Our designs are oriented to ensure that every item and element fit into the kitchen in a suitable arrangement.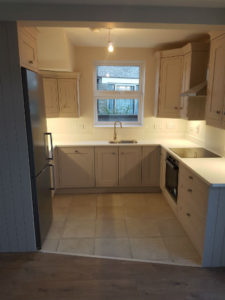 Contemporary Kitchen Design
For many years, we have dealt with kitchen design & planning. To create any kitchen layout, we fast assess your needs. Then, we check the available space to determine the most suitable design that fits your space in addition to satisfying your needs. We guarantee you that our team of experts can develop any style of kitchens in Meath you may desire. We also get the best appliances for your kitchen. However, that depends on your wishes. We also work with what you have from the sinks, the cupboard any other element in the room.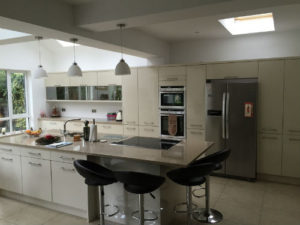 Well Planned, Insured and Guaranteed Service
Our kitchen carpentry services are set to help you. In fact, the work we do is guaranteed and insured. We prioritise your kitchen once you approach us. First, we set a time to view your kitchen. We then decide on the kinds of the layout to use and explore all possible designs that would uplift your kitchen. After we do all planning, we then set a date(s) to the real work. We don't charge any quotation fee.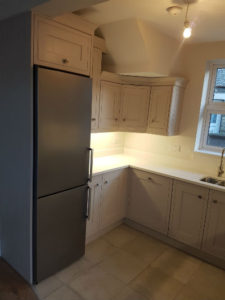 At Steven Cleary Carpentry, we help to get the best design and a modernised kitchen in your home. Therefore, we offer affordable services. Furthermore, we ensure that the arrangement of a well-fitted kitchen and makes it possible for you and your guest to dine in a well-designed place. For further information on our range of fitted kitchens in Meath, please call 046 9028374 or 086 2448792. Alternatively, fill in the enquiry form online for a quick response.
We provide our kitchen services to the following areas within Meath;
Navan, Oldcastle, Athboy and Trim